What Can You Expect When You Join Me For Practice?
You can expect to shift your energy and improve your mood. Through the physical practice, combined with breath work and other techniques, you can move your perception, and therefore how you respond to your life, in the direction of increased contentment and calm. I believe that yoga is for everyone so I receive all students no matter what level, just come talk to me before class so we can get to know each other! I look forward to guiding you intelligently, respectfully, and thoughtfully.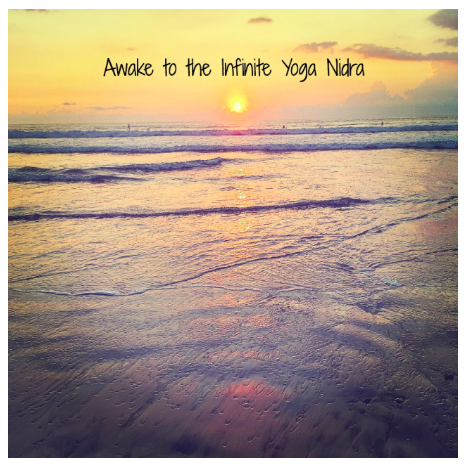 Yoga Nidra:
Awake to the Infinite
Yoga Nidra: Awake to The Infinite
$18
The practice of Yoga Nidra is the foundation through which deep healing, relaxation, catch up on lost sleep, peace, calm, tranquility and ultimately to touch that which is unchanging, can all be yours. In a matter of minutes the body surrenders, the mind calms and the breath passes like an infinite wave through the space of your body. This album includes 4 different Yoga Nidra practices of varying length that are done from the comfort of laying on your back!
Meditations on Light
$18
This meditation album includes three meditations of varying length for calm, guidance and personal power all utilizing the unique and pervasive qualities of Prana, or energy. This album includes a bonus track of the Sri Sukta chant - which I use in my personal practice to propitiate the forces of auspiciousness and beauty. You can simply sit and play that as a meditation itself as well.
Upcoming Immersions & Retreats
Private sessions with me in your home can accelerate not only your understanding of your body mechanics, facilitate healing from injury, and teach you basic yoga asana structures and sequences, but can lead into much deeper techniques and skills acquisitions that affect every aspect of your life. From basic physical practice tune-ups to ongoing deeper learnings, we can customize a one-on-one plan to suit your needs.
Tell me what you are looking for below and let's get you started!
Testimonial
"I have been consistently practicing with Jillian for the last four years. What amazes me about Jill is that every time I go to her public classes, it's always different. My yoga practice has grown immensely in a holistic fashion - not just asana. What's consistent through each class though is the beauty of Jill's careful sequencing and thoughtful instruction. Her wealth of knowledge and deep passion for teaching is unparalleled by many teachers. If you're looking for strength and stability, and a dash of humor, you've found who you're looking for. Thank you Jillian for everything you've taught me! Hope to keep practicing with you for years to come!
- Charina L.