JG DESIgns Malas
Handmade Custom Designs With Healing Properties
The Survivor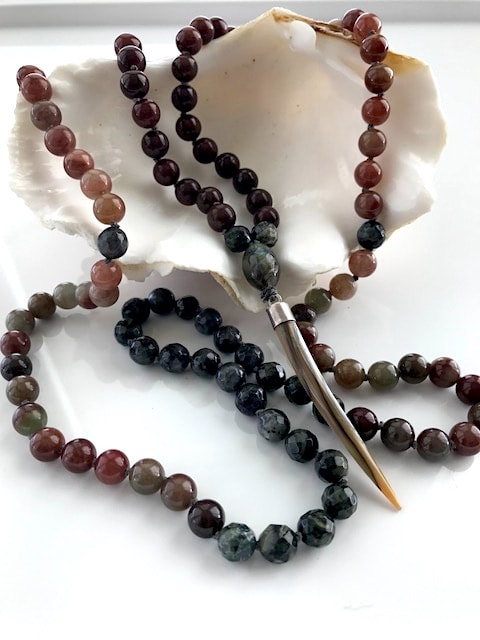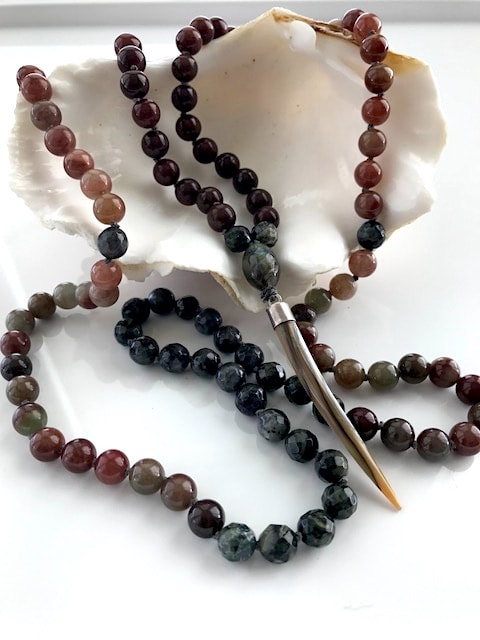 sold out
The Survivor
Whether in the midst of trauma or having survived trauma and working to heal - this mala is an incredibly powerful aid and will carry the wearer through the rocky tides of transformation as new layers of healing and power are revealed and enacted. Power to the survivors! May we all be free from suffering.
Aventurine
Rusty Orange Aventurine enhances good luck, good fortune and abundance. It encourages us to realize our personal power, but aligns us to a higher vibration ensuring we use our newfound powers in the highest light. It also inspires creativity and imagination by dissolving blockages and allowing energy to flow. It facilitates feeling calm and balanced while it helps manifest success, joy and optimism in our lives!
Peach Aventurine
Contains all the healing properties associated with Aventurine as well as helps with anxiety, worry, stress and shyness.
Clearer Yellow Aventurine
works with the golden light to fill us with compassion and understanding. Its reassuring energy works to balance our emotions and alleviate grief and suffering assisting us to regain our personal power as we become less sensitive and indecisive, while enhancing our drive to find our place in this world. It promotes confidence and the freedom to experiment with different forms of self-expression.
Tourmalinated Quartz
Is a powerful healing and harmonizing crystal that serves as a protective shield from negativity and amplifies a more balanced and grounded emotional state. This same energy can be equally as effective in diminishing the negative thoughts and patterns we have about ourselves as well. Any shadow energies that may have had a hold on us will be dissipated along with patterns of self-sabotage
Labradorite
Helps raise consciousness while grounding spiritual energies into our physical body. It stimulates our intuition and brings messages from the subconscious to the conscious mind, but only when we are ready to understand them. Labradorite promotes strength and perseverance, but because it understands how difficult this journey can be it only reveals hidden truths and mysteries to us when we are ready to embrace them and the transformation this knowledge will bring.
Abalone (Horn)
A gift from the ocean, over time, the oceans tumultuous tides and sand shine and polish the shell. What once was a rough surface transforms into the captivating colors of the ocean with an iridescent shine! Abalone Shell helps calm and soothe our emotions serving as a reminder that beauty and light can always be revealed after a rough, rocky ride. Abalone Shell helps us deal with emotional turmoil, enhancing feelings of peace, love and compassion. It is the perfect companion for survivors of traumatic experiences.
Measurements
Hangs approximately 22 inches from top to horn tip) - please consider the width of the curve of the neck and the extension of the chest when considering the length. This bottom of the horn can reach in range from just above the navel to the bottom of the sternum, depending on the person.